NEW DELHI: With nine of 11 Rajya Sabha MPs elected on Monday belonging to BJP, the party has touched a high of 92 MPs in the upper House, a major feat for the saffron party given the challenges it had to face in getting key legislations passed in its first term.
Congress numbers have fallen to 38, a low for the party in Rajya Sabha with its combined strength in Parliament — including the Lok Sabha representation — at 89, which is well short of 100. The gap between BJP and Congress in Rajya Sabha is also at its widest ever.
In Lok Sabha, Congress lacks representation from Jammu and Kashmir, Himachal Pradesh, Uttarakhand, Haryana, Delhi, Rajasthan, Gujarat, Andhra Pradesh, Sikkim, Arunachal Pradesh, Tripura, Nagaland, Mizoram and Manipur.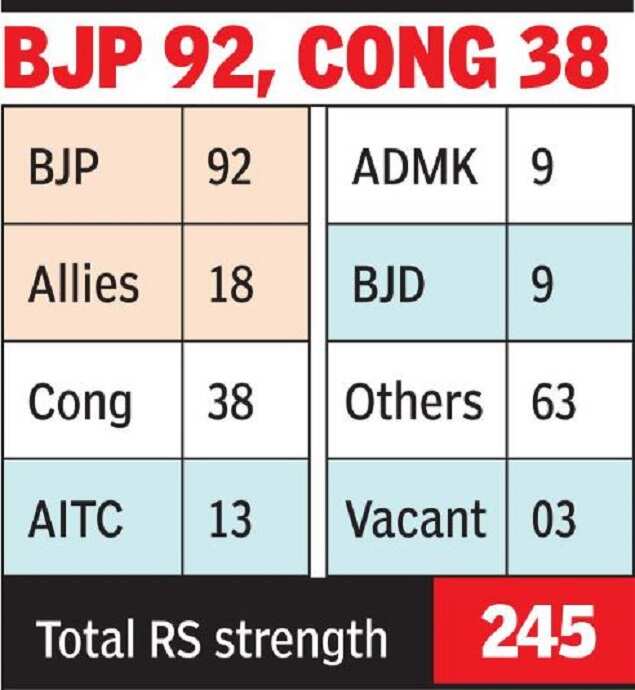 Housing minister Hardeep Singh Puri, BJP general secretary Arun Singh and son of late Chandra Shekhar, Neeraj Shekhar, were among those elected from UP on Monday.
Ram Gopal Yadav (Samajwadi Party) and Ramji Gautam (BSP) were also elected. BJP's Naresh Bansal was elected unopposed from Uttarakhand. With 92 BJP MPs, NDA is strongly placed in Rajya Sabha and the alliance's strength has risen to 110, which includes five of JD(U) and four nominated MPs. Besides, AIADMK (9), TRS (7), YSRCP (6) and BJD (9) have supported the government on several occasions barring some instances like the recent farm bills.
In Uttar Pradesh, the BJP top brass has not only addressed the compulsions of caste equations in selection of candidates but has also nominated new faces such as Haridwar Dubey, Seema Dwivedi, Geeta Shakya, B L Verma and retired IPS Brij Lal. Dubey was a minister in the Kalyan Singh government in 1991. Hailing from Agra, Dubey had been a three-time MLA but has been in the shadows since. Shakya has been a key organisational worker in UP unit and has held the charge of state secretary (organisation) in the past. Until last year, Shakya was Auraiya district president.