NEW DELHI: A survey by Kirorimal College of Delhi University on breast awareness has found that over 60% of men are unaware that they can be afflicted with breast cancer.
The study conducted by Biocenose, the zoological society of the college, also found that only 52% were aware of mammography to check breast cancer. As part of the initiative taken by the college, students went and conducted breast cancer awareness drives in their localities.
During a week-long breast cancer awareness campaign last week, students were asked to participate in spreading awareness about how the disease has taken a toll on women's health across the world. "The survey was analysed and interpreted by us on October 24," said associate professor Anjali Priyadarshani.
The survey was conducted on 487 people — 77.6% men and 22.4% women — and a maximum of them, 39.5%, in the age group of 10-20 years.

Priyadarshani said that in the survey it was found that only 52% were aware of mammography and a very small section — 8.4% — had undergone the process. The survey revealed that over 70% were aware that a lump in breast is a symptom of the early onset of breast cancer.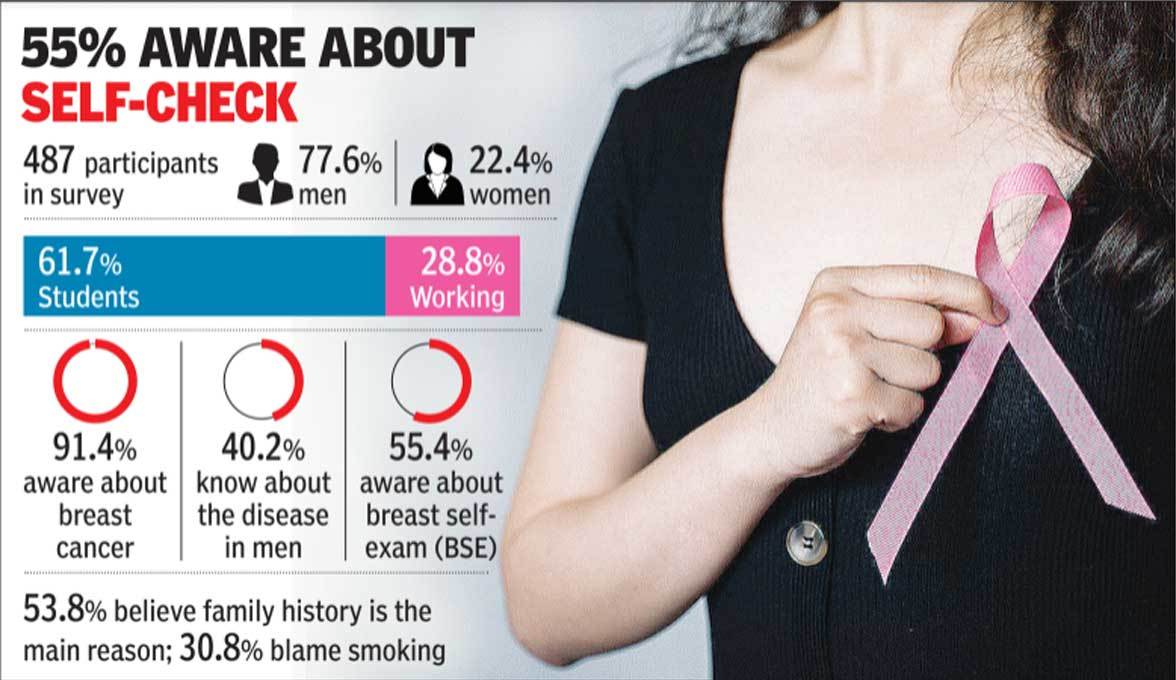 Of those who took part in the survey, 53.8% said that family history of breast cancer is the main reason behind it. While 30.8% thought it was due to smoking, 31.8% said consuming birth control pills may also be the reason. Surprisingly, 7.6% believed breast feeding to be a reason, while 26.7% thought being overweight may also cause it and 25.5% believed age was also a factor.
"We found that 30% had no clue about the cause of the cancer," the associate professor said. Priyadarshani added that as part of their initiative, students were asked to go around their localities and spread information about breast cancer. "We also conducted a slogan writing conference and conducted a webinar with the HOD of Obstetrics and Gynaecology, Mohak Hospital, Allahabad, Shaswati Sen, who was the guest speaker," he said.